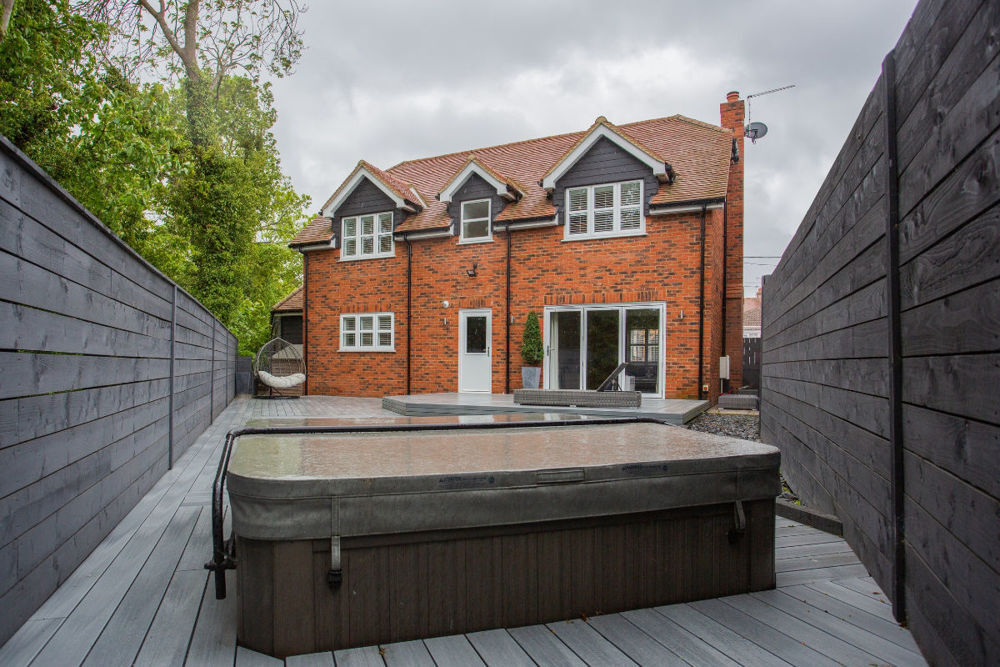 When it comes to turning your garden into a sanctuary of relaxation and entertainment, the addition of a hot tub is at the top of the list for many, but have you thought about hot tub decking?
What is Hot Tub Decking?
Hot tub decking, as the name suggests, is specially designed decking or flooring that surrounds and supports a hot tub. This decking type is typically made from wood deck boards or composite decking, which is supplied by timber merchants and custom-built to fit the specific dimensions and shape of the hot tub and your garden.
Hot tub decking provides a stable and aesthetically pleasing platform for your hot tub, enhancing both functionality and visual appeal.
Types of Hot Tub Decking
When weighing up your options you should choose decking that reflects both your personal style and preferences as well as practical aspects, such as maintenance and functionality. Below we list the different hot tub decking options that are available:
Standard Decking: A practical and no-fuss option, which is placed on one level either close to the house or in another part of the garden, such as a corner. Suitable for most gardens.

Multi-Level Decking: Create visual interest and define different areas by incorporating multiple levels of decking. This can allow you to have a dedicated space for the hot tub, while also providing space for seating, dining, or entertaining.

Built-In Seating: Combine your hot tub decking with conveniently placed built-in garden furniture around the edges of the deck. This not only saves space but also provides a spot for guests to relax whilst you are using the hot tub.

Sunken Hot Tub: For a sleek and modern look, consider sunken hot tub decking. This design involves placing the hot tub below the deck's surface, giving a built-in appearance and allowing for easy entry and exit of the hot tub.
When it comes to deciding what material is best for your hot tub decking, you should consider the look you are after, practicality, cost and longevity.
Wood Decking
Wooden hot tub decking is the most traditional option and can be a relatively affordable one too. Our wood decking options are made from premium quality hardwood deck boards and softwood deck boards which can be customised and cut to your preferred size and shape.
However, when not properly maintained, wood decking can be prone to warping and rot. It is also easily stained from hot tub water, due to the chemicals used to keep the water safe and clean, and should be properly treated and sealed to prolong its life.
Composite Decking
Composite decking is made from wood fibres and plastic polymers, making it more durable than traditional wood decking. It is slip-resistant, barefoot friendly, and can be pressure washed for easy cleaning.
Composite is also resistant to mould, rotting, and insect damage, making it a great option for decking that surrounds a hot tub. It doesn't require staining or treating either, great for those looking for low-maintenance decking.
Check out our blog on how to clean composite decking in five easy steps.
Benefits of Hot Tub Decking
There are several benefits to having custom-made hot tub decking. Not only does it provide a safe and sturdy home for your hot tub but it can also help with aesthetic appeal, accessibility, and durability and can even increase property value.
Aesthetic Appeal: One of the primary benefits of hot tub decking is its ability to elevate the overall aesthetic of a garden. The clean lines, rich textures and natural colours of both wood and composite can complement any outdoor setting, creating a visually appealing focal point.

Accessibility: Hot tub decking makes accessing your hot tub easier and more comfortable. It provides a level surface that can prevent slips and trips, ensuring safe entry and exit from the hot tub.

Durability: Quality decking materials, when properly looked after, are designed to withstand the elements. This durability ensures that your decking will look great and last for years to come.

Privacy: Depending on your garden's layout, you can easily incorporate privacy screens, fencing panels, or overhead shelters such as a pergola or gazebo into the design. These not only provide privacy and shelter but can create a cosy setting when relaxing.

Increase Property Value: Adding a well-designed hot tub decking to your garden can increase the value of your property by improving garden functionality and appearance, something potential buyers may see as an attractive feature.
Where Should I Place Hot Tub Decking?
The placement of your hot tub decking is something that should be carefully thought out and there are things you should consider to ensure it can be utilised in the best way possible.
Placing your hot tub decking close to your house is a practical choice, as it provides easy access to amenities such as bathrooms and may even encourage you to use your hot tub more frequently if it is easily accessible.

Ensure the location you choose allows for easy delivery and installation of the hot tub. It should also have proper drainage to prevent water buildup and be close to a tap for refilling and an electric supply to run the hot tub.

If your garden offers scenic views, take advantage of them and position your hot tub deck to overlook the scenic landscape.

If privacy is something you desire, placing your hot tub decking close to the house or a fence could be an option, or consider having privacy screens or shrubs and plants surrounding your hot tub area.
Can I build Hot Tub Decking as a DIY project?
Filled hot tubs are very heavy. 1 litre of water weighs 1kg so if your hot tub has a capactity of 700 litres, your filled hot tub will weigh over 700kg. A very large hot tub could weigh upwards of 3000kg once filled! Therefore, if you intend to position the hot tub on top of the decking we would recommend that you contact a qualified builder or decking professional to design & build the hot tub decking for you.
A professional should also be consulted if you intend to raise your decking over 600mm above ground level.
If you simply intend to surround the hot tub with decking then provided you can drill holes, tighten screws and bolts, read a spirit level and use a saw, then this decking project is well within your scope.
A hot tub is a great addition to any garden, providing a blend of style, comfort, and relaxation. By carefully considering the placement, materials, and design of your hot tub decking, you can create an outdoor oasis that not only enhances the design of your garden but also offers a perfect space to unwind and enjoy the outdoors, no matter the season.
If you have further questions regarding hot tub decking, please feel free to contact us at Bendrey Bros.